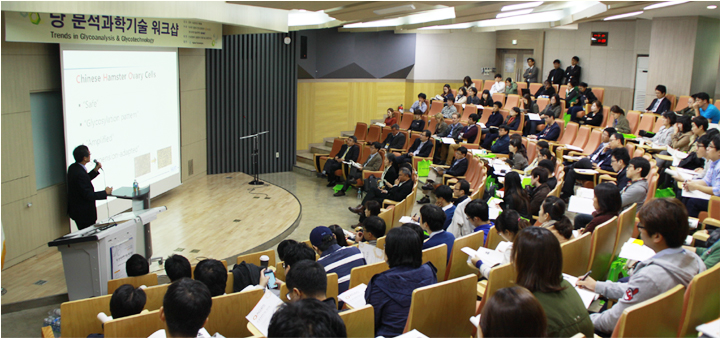 The annual AGRS International Glycomics Symposium showcases recent developments in glycomics and allied topics. Leading researchers and international experts from both industry and academia present on subjects ranging from analytical method development to biopharmaceutical characterization and biomarker discovery.

Symposium topics vary from year to year according to the latest trends. Recent topics and speakers include:
- Glycan biomarkers for cancer, Carlito Lebrilla, University of California at Davis, United States
- Characterization of biopharmaceutical glycoproteins, Peiqing Zhang, Bioprocessing Technology Institute (BTI), Singapore
- Paleo- systems biology, Rudolf Grimm, Agilent Technologies, United States
- Glycotechnology from a bioprocess perspective, Gyun Min Lee, Korea Advanced Institute of Science and Technology (KAIST), Korea
- Lipidomics and glycolipidomics, Marcus Wenk, National University of Singapore, Singapore
The 2014 AGRS International Glycomics Symposium will be held at our main site in Daejeon, Korea in late summer or early autumn. To receive updates on the symposium, including schedule and registration information, please join our mailing list by contacting us at sugar@cnu.ac.kr.